It all comes down to the small everyday choices we can and should make
Content Index:
Introduction
Unlock 1.0 in India
Graphical AQI data for before and during lockdown
Air quality improvement during the lockdown and its effects
Graphical AQI data for before, during and after lockdown
8 easy steps to help maintain healthy air pollution levels
Covid-19 lockdown had a rare but reasonably positive effect on the world. We witnessed a significant improvement in the environmental pollution in air-quality, water, noise, dust and apparent temperature due to reduced carbon emissions.

Global air pollution levels decreased, in major cities, including high air pollution areas such as New Delhi. The air quality index (AQI) dropped to healthier limits with over 80% reduction in some places. This led to the Dhauladhar Himalayan range being visible from Jalandhar.
People were delighted to get a peek into a better world that can be built on our everyday choices. The lockdown forced us all to stay home. For many, it was a time of self-reflection to define the new 'normal'.
Science Daily covered a few valuable findings from a research study that quoted, "Such a significant drop in emissions is unprecedented since air quality monitoring from satellites began in the 1990s, said Jenny Stavrakou, an atmospheric scientist at the Royal Belgian Institute for Space Aeronomy in Brussels and co-author of one of the papers. The only other comparable events are short-term reductions in China's emissions due to strict regulations during events like the 2008 Beijing Olympics."
In India, with Unlock 1.0, people's lives are bouncing back to normal as many regulations are slowly being lifted. Office goers are stepping out of their homes, vehicles are gradually increasing on the road and factories are starting to open up. Thus, fossil fuels have started to burn in those exhausts leading to deteriorating air quality levels with the return of pre-COVID numbers.
Poor air quality affects the immune system and aggravates respiratory issues in sensitive groups making them more susceptible to COVID-19. Data scientists claim that coronavirus cases and their mortality rates are higher in high pollution areas. Our fight against the coronavirus is weakened with high pollution levels. Therefore, air quality monitoring is important now more than ever to protect human health.
Accurate air quality data from reliable sources is highly valuable. At Ambee, our constant effort is to deliver data that is not only accurate but also useful, informative, and actionable. 
Experts claim that PM 2.5 can possibly carry the SARS virus. Ambee's air quality data provides a detailed insight into particulate matter (PM 2.5 & 10), carbon oxides, nitrogen oxides, sulfur oxides, ground-level ozone, and more. This data enables research, solutions, tools for air regulation enforcement, and policymaking. The creation of innovative products protects everyone and provides special care to those who are gravely affected and empower them with environmental intelligence.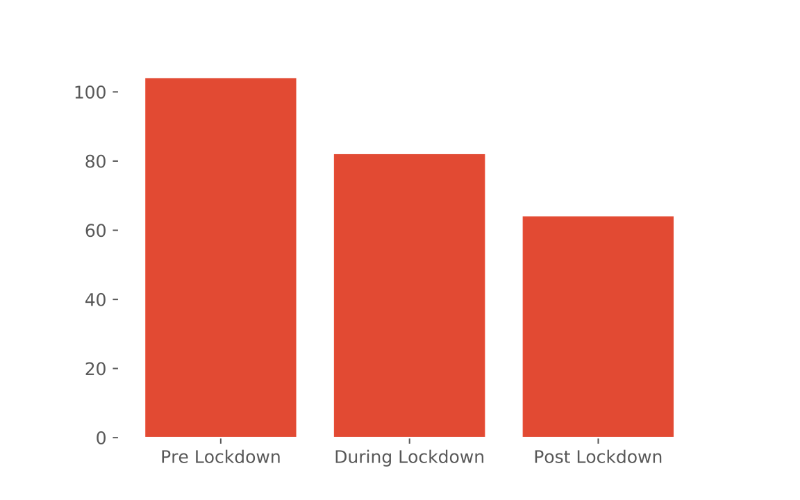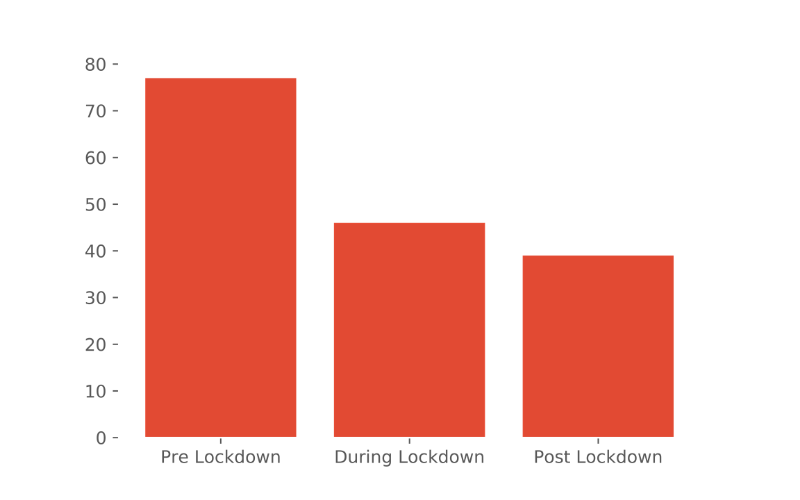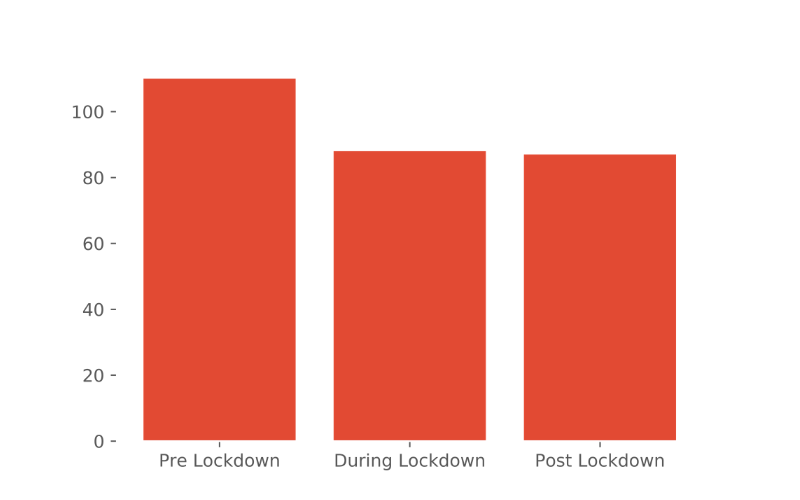 What is happening now with the air quality levels after lockdown?
The world is opening back up to support the world economy. Economic recovery should not override air quality management as a priority during the COVID-19 crisis. Public health and air pollution are far more important than economic incentives. Improvement in air quality and public health has proven to positively affect the economy as well. However, air quality levels are returning to pre-COVID days and we can't reap all the benefits.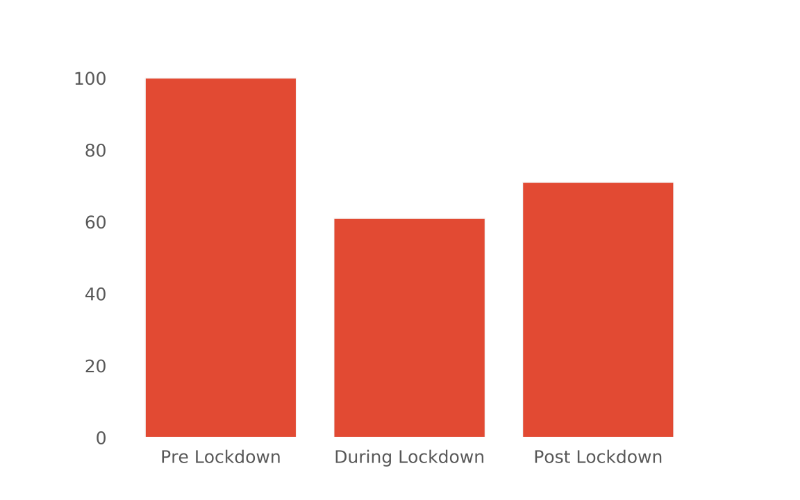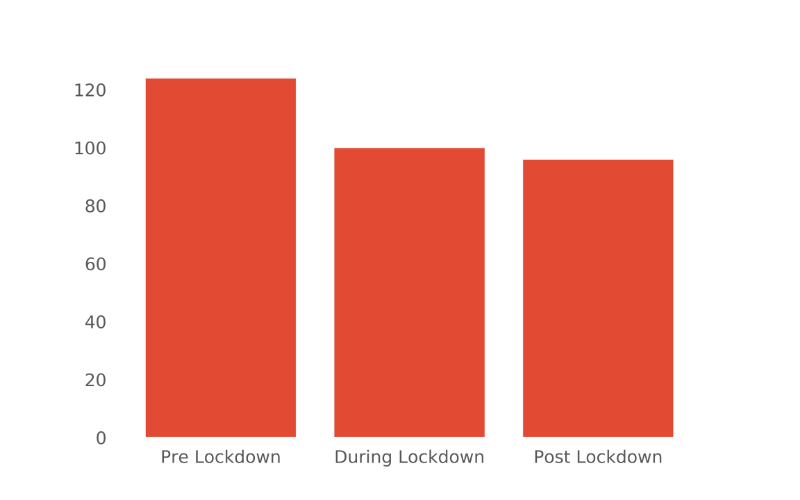 Your favourite places to eat, drink and hang out maybe open now but the world is still in a global pandemic. Make sure to maintain the rules of social distancing, sanitization, wearing masks, gloves, and extra care towards personal hygiene after being out in the world. Wearing protective masks alone can help reduce the probability of a pandemic by 50%. Maintaining clean hygiene, washing hands, using sanitizers not only keep you healthy but also help battle the monstrous pandemic.
All of us need better living conditions to be healthy. Improvement in air quality requires each person's contribution and better government policies.
A recent study shows that 40% of PM2.5 in the ambient air is from vehicular emission. With better infrastructure, people will be inspired to walk, ride their bicycle, or take public transport. The government needs to recognize this and work towards better policy-making to provide better infrastructure.
Currently, the policies that can be implemented for better public transport are routine sanitization, social distancing to not over-crowd buses, metro, etc. The rise of electric vehicles (EV) technology can also be used for public transport.
8 Easy steps to help maintain healthy air quality levels after lockdown
Use public transportation as much as possible
Avoid burning garbage. Join local community action groups to battle this act.
Use non-motorized transportation like walking, cycling, skateboarding, etc., for short commutes. Walking is the best form of physical exercise. Also, it's refreshing, thought provoking, and a stress buster.
Use e-bikes via e-bike rentals, it not only helps reduce your carbon footprint but also saves money. 
Always be aware of what you and your loved ones breathe. Visit Global air pollution or download our app to check your ambient air levels. Look into installing air sanitation devices to purify the air you and your family breathe in. 
Turn off lights, save energy, install low consumption light bulbs or adopt partial solar power for your homes. Thermal energy plants burn enormous amounts of coal to create energy for your homes. You can help reduce that as well.
Keep your vehicle emissions in check, quit smoking, burning crackers, etc. It may seem trivial but it's better to not further add to the pollution. 
Adopt plants, visit your local nurseries, plant a garden, partake in growing trees, cut down plastic use and try to live a more sustainable lifestyle.
Let us try to be smart citizens. Let us unite in these tough times. And let us care of our planet.
A better future is built on a better today. Join us and be a part of this revolution.
---
This blog was written by
Pushya C
, Content Writer at Ambee.